Healthcare Industry Template
Healthcare helps prevent diseases and improve one's quality of life. The Healthy People 2030 initiative is a strategy that focuses on improving healthcare quality - making sure all people get the health care services they need. The Healthcare Template is designed to promote this strategy by enabling healthcare providers to communicate more effectively via APIs, FHIR, Cloud, portability, and interoperability thereby providing a higher level of quality healthcare.
The short video below describes the project web portal and walks you through an example of one of our industry templates. Take a look.
---
Benefits of using industry templates:
Project transparency - readily share and discuss your project

Recompose business models and reuse them.

Standardize common vocabularies, ontologies, and glossaries.

Catalog data relevant to your project goals and within the proper context.

Reuse industry template definitions across your future projects.
Templates enable you to level-set your project strategy - saving

you time and money

and drive your strategy to execution (i.e., increase revenue, streamline operations, launch a new product)

.

Within a few seconds of establishing an account (free), you are able to take advantage of the following: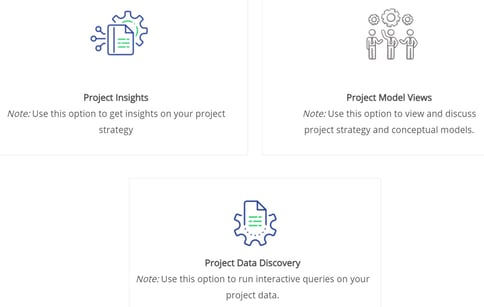 You get a 360° view of your project
Enterprise Strategy and Knowledge Management
The image below is from the Enterprise Architecture Center of Excellence (EACOE)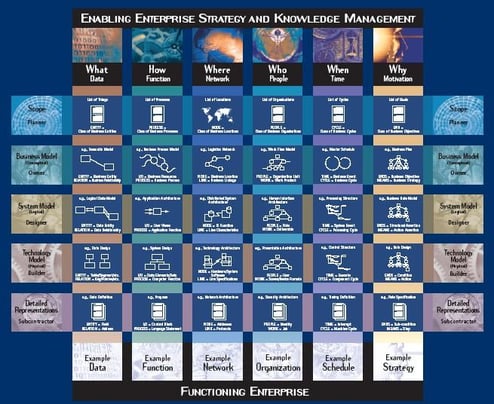 The template comes with a 360° view of people, data, processes, and technology necessary for you to execute your strategy. By combining these assets and resources, you are better able to gain a competitive advantage and gain insight into your strategy.
Insights are actionable in that they are linked directly to your project goals and objectives.
Examples of Insights may include:
- Properly safeguard sensitive data
- Segment the market need based on patient properties
- Understand patient encounters at the time of admissions
- Know when and how a patient submits to a survey
Healthcare Sample of Digital Assets